Greetings from General Manager Nakajima
VIP Indoor Tennis School is the first indoor tennis school in Japan and has been supported by our valued customers since April 1975. Unfortunately, we closed once in 2008. However, we're honored to announce that we're reopening our school for the first time in 12 years here in Toyocho. As a brand new VIP Indoor Tennis School, we added a new school concept, "Get healthy before you know it," to our original concept, "Improve your skills before you know it." We would love to provide our valued customers the best lessons, services, facilities and the compilation of our 45-year history.
Tennis is one of the most amazing sports that you can enjoy, no matter how old you are or where you're from. Our mission is to teach our customers all the benefits this incredible sport has to offer as simple as possible. Meeting friends, hitting balls, getting sweaty, coming to our school, and feeling accomplished are just some of the countless joyful aspects in joining our community. All you have to do is take the first step and get yourself on the court. Leave the rest up to us. Let's get started!
Location
5-min. on foot from Toyocho Station Exit 4 on Tokyo Metro Tozai Line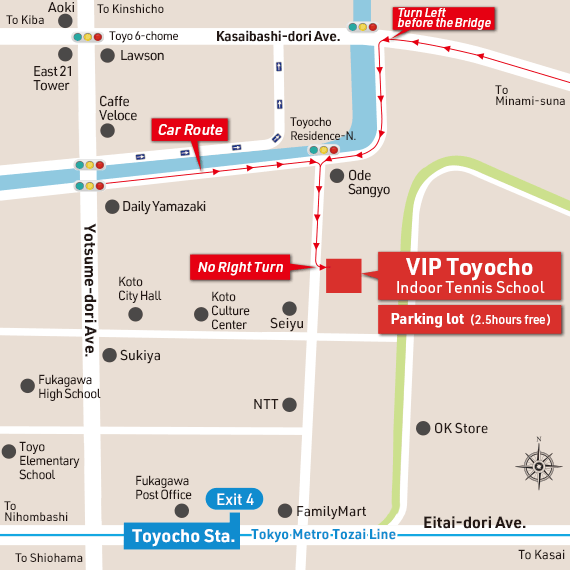 If you come by car, you can pull into the parking lot from the north.
You can't turn right there.
Famile Toyocho 5F, 2-6-11 Minamisuna,
Koto-ku, Tokyo, 136-0076, Japan